Read our September 2019 newsletter
Our latest newsletter brings you up to date with all that is happening with the Joint CS Reading Room UK.


As you will see our immediate need is for greater financial support from the Christian Science Field. In an average year, donations from individuals and churches cover about 50% of our running costs which are over £100 per day. In the past we have received two generous donations from closing churches and continue to have support from TrustBrit (for specific projects).

At a time when there are fewer Christian Science churches and Reading Rooms across the country we feel that this Manual-based activity is more important than ever. One of our largest activities, the Joint Christian Science Reading Room online is open 24/7 at a time when many other Reading Rooms are only open for a few short hours a week. Our librarians provide a valuable resource to the public and Christian Science movement answering and forwarding many enquiries and questions. 

The Online Reading Room shop, sells everything a normal Reading Room does and is accessible from anywhere anytime. 

Download the newsletter from the link below.
Joint CS Reading Room newsletter
JCSRRUK newsletter SEPT 2019.pdf
Adobe Acrobat Document
1.4 MB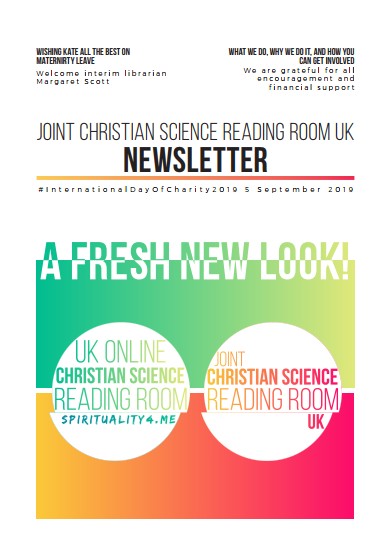 JCSRRUK 2019 AGM - Saturday 29th June 2019 - Watch a recording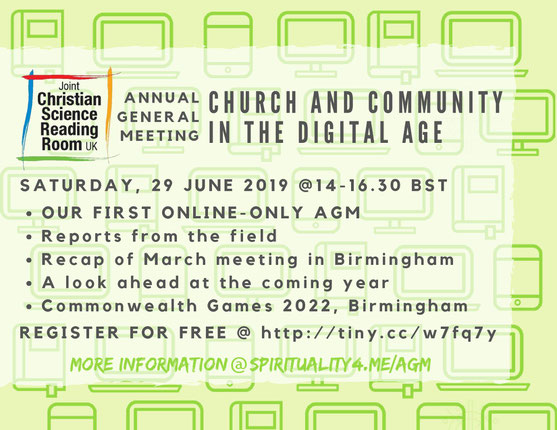 You can watch a recording of our meeting by following this link -
This year the meeting was only available online via our webinar service Zoom. The whole team was meeting together in High Wycombe,
Some of what was be covered in the meeting: 
Financial report 2018
Trustees election (if you wish to become a trustee, we'd love to know!)
Report on areas such as UK Online Reading Room, social media, live-streaming, RR TV screens, church websites, Google Adwords etc
Reports from the field
Recap of our March meeting in Birmingham
A look at the upcoming year, and how we can work together as UK Reading Rooms and Churches
Upcoming webinar potential (if you have a topic you'd like to share with the field, please let us know)
Commonwealth Games 2022 Birmingham
2018 Report & Accounts
Report and Accounts for 2018
JCSRR Report and Accounts 2018.pdf
Adobe Acrobat Document
446.5 KB
Church Community in a Digital Age - re-watch here (22/23 March)
Metaphysical Basis for the weekend:
Edwin de Leon and Gay Bryant Flatt
Hymn sing 572d - The Christian Science Hymnal
The Christian Science Periodicals - a discussion
with two Associate Editors
What is Virtual Sunday School?
Introduction to the UK Communication Coordinator
for The Mother Church
Live-streaming, an open discussion
Christian Science and the Wider Community
Above are extracts of our recent meeting in Birmingham on 22nd - 23rd March on 'Church Community in a Digital Age'. We had around 40 people each day in person, and over 360 people watching via live-stream and Facebook Live.
Agenda
Church Community in a Digital Age full schedule
ORR Birm sched v2.png
Portable Network Image Format
208.9 KB
A recording of our 2018 AGM can be watched here
Our 2018 AGM
The Annual General Meeting of the Joint Christian Science Reading Room was held on Saturday, 23 June 2018. 
Minutes of 2017 AGM
Minutes of our last AGM for download.
Minutes of 2017 AGM.pdf
Adobe Acrobat Document
201.1 KB
Below is our Governing Document approved by the Charities Commission.
JCSRR Governing document
Governing Document final - amended 20 Se
Adobe Acrobat Document
469.3 KB
Streaming of CS lectures
We have produced a booklet to help CS churches interested in streaming (or broadcasting) their CS lectures on the internet.
  In recent months lectures streamed have attracted live audiences of over 100 with the same number, or more, watching after the events.
  The booklet explains the benefits and practicalities of streaming.
  Please contact us for more information or download the booklet from the link opposite.
Guide to streaming CS lectures in the UK
Live-Streaming-1.pdf
Adobe Acrobat Document
1.9 MB
Webinars on live streaming
Two webinars on live-streaming took place in 2017, what them below.
Social media webinars
If you would like to support the UK Joint CS Reading Room please use the widget on the right. Alternatively you can send cheques to the JCSRR at the address given at the bottom of the page.
In late 2016 we held two online webinars on social media. You can watch the videos of these below.
Would you like to donate to the Joint CS Reading Room UK?
Donation form
To make a donation or set up a standing order you can use this form.
Donation form.pdf
Adobe Acrobat Document
200.3 KB